We're delighted to be extending our Nursery provision to 48 weeks a year and have our brilliant team to work all year.
Loraine Pincott, Nursery Manager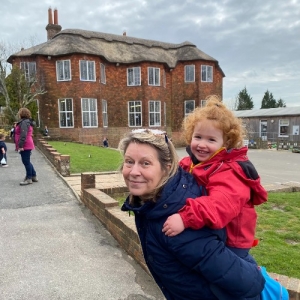 Montessori Teaching Diploma, St Nicholas Montessori Centre, London
Foundation Degree in Montessori Practice, Kent and Sussex Montessori Centre
BA Early Childhood Development, Greenwich University
Early Years Professional Status, Greenwich University
I decided I wanted to be a teacher at the age of seven, because I loved school and was lucky enough to have inspirational teachers in both the schools I attended. I have worked as an Early Years teacher for more than 30 years, and have enjoyed (almost!) every moment. The most rewarding part of my job is being able to witness the progress and development of the children in my care. In Early Years teaching there are many special 'wow' moments, as the children make such rapid and visible progress. Every day is different, as each child contributes new ideas and new questions which inspire our teaching.
I am very proud to be part of an outstanding Early Years team at Skippers. Every staff member has their own 'specialism', such as a passion for providing a rich environment, an enthusiasm for outdoor learning, a deep knowledge of Schema theory or a strong interest in language acquisition. We work together for the benefit of every small person we are lucky enough to welcome into our Nursery. Skippers is a very happy place to work and play!
My interests outside school include reading, dog walking on Ashdown Forest and spending time with my large, loud family, several of whom are also teachers! I also love keeping up with new research and developments in the Early Years field. I'm thrilled that our sector now has the support of the Duchess of Cambridge, who will be invaluable in raising the profile of the vital importance of the first five years of life.
Libby Hyder, Assistant Head of Nursery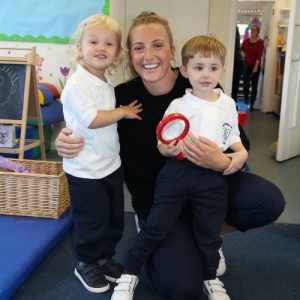 MA in Early Years Education, The University of Sussex
Early Years Teacher Status, The University of Sussex
BA (Hons) in Education with Psychology, The University of Bath
My career in teaching was inevitable, with many hours of my childhood spent 'teaching' my teddy bears or, if he was really lucky, my brother, which I am convinced must have rubbed off on him as he is now a teacher too! I absolutely loved everything about school when I was a child, which led me to study Education with Psychology at the University of Bath. Since graduating, I have spent time working and teaching in schools across various Key Stages in both marketing and admissions, as well as teaching. When I joined Skippers Hill, it didn't take me long to realise my passion for Early Years! I just love that, from the moment a child walks into the Nursery, every minute until that child goes home they are learning, growing and developing. Between the ages of 0-5 years old, the human brain changes at a rapid rate and passes through many critical periods of development, which is why it is crucial that early years education is executed effectively. A number of recent studies have demonstrated that there is a link between a strong start to a child's education and success in later life. It is so important that every child receives a rich, wholesome and varied education from the start of their life, and to explore this in more depth I decided to complete further studies in Early Years Education.
I am so pleased to have been able to complete my Masters in Early Years Education over the past year at Skippers Hill. It has been a fantastic opportunity, which I will be forever grateful for. The support and opportunities that Skippers Hill has given me has allowed me to develop so much as a teacher, in such a short period of time. I am so excited to take every opportunity to put into practice all that I have learnt on my Masters course, as well as develop my personal interests in creating an 'enabling environment' for both the children and the teachers, in my new role as Assistant Head of the Nursery, with the never ending support of an amazing Early Years team.
On the weekend, you will usually find me having brunch in my favourite cafe with friends after a spin class, before a long walk along the South Downs with my family and our dog, Percy. I am still trying to convince my fiance that a dog of our own is definitely what we need!
Categories:
Uncategorised