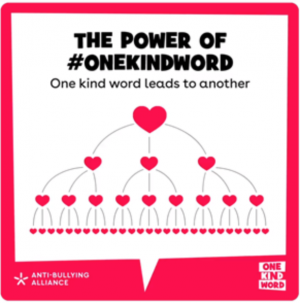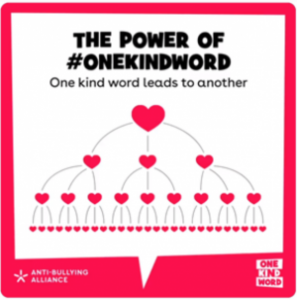 Oxytocin is a chemical which helps to bind us as human beings and produces feelings of love and connection. This is an important place to start to explain why the focus of Anti-bullying week, One Kind Word, was so inspired. It explains the power of kindness and the chemical reaction we experience with acts of kindness and generosity.
Huge amounts of oxytocin surge through women's bodies during childbirth and help to seal the unique and intense bond of love between mother and child.
There are many ways to release oxytocin. One simple way is through acts of kindness and as we have all experienced, it feels good when we do something kind for someone and it feels good when someone does something kind for us.
Here is what is so exciting: even simply witnessing acts of kindness releases oxytocin, this means kindness is contagious! And even more exciting is that the more oxytocin we have in our bodies the more generous we become. Think about this and the impact this could have on the culture and environment we can encourage in our local communities.
One of the big aims of Anti-bullying week was to create a ripple effect of kindness throughout our Skippers community. With our understanding of oxytocin we can see how a domino effect of kindness can be achieved. Our focus of assembly at the beginning of term was how we can create a kind, positive and encouraging environment here at Skippers.
As everyone knows, for any living thing the healthier the environment the more adaptive and vital the growth. What can you say or do that is kind to someone today?
Phillip Makhouli
Categories:
School Blog